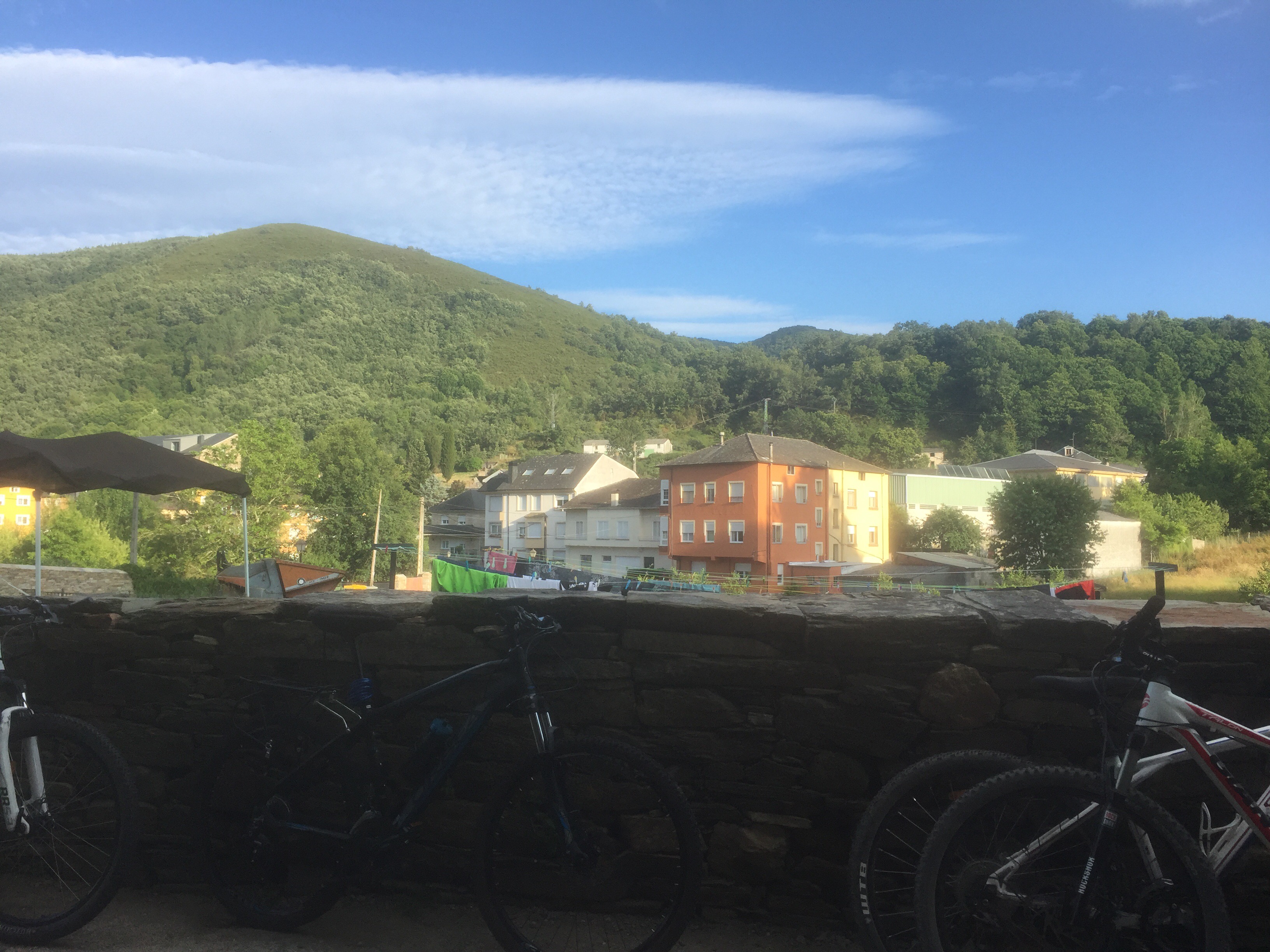 Today started out quite well. I woke up and was greeted by numerous birthday wishes from friends and family through email and Facebook, and it gave me a great smile to start the day. I set off on the trail around 7:40 and walked on my own.
Along the Camino there are some days when you follow the specified trail throughout the day. On some days, you are given a choice of which path to follow, but without the guidebook you don't know what you are getting into. Today was one of the days with several options. As I set out, I had planned on taking the shorter route to Villafranca along the highway. While walking, I was so lost in my thoughts that I ended up taking the longer route through the hills past the vineyards. It wasn't too much longer, but there was definitely added difficulty due to the terrain. It brought me by peaceful groves of trees with birds singing their sweet melodies. If I had gone the way I planned, I would have missed out on this beautiful scenery. Then it hit me on the parallels to life that it had.
When we walk the path of life, we have so many choices ahead of us. We make some good decisions and bad ones, but we still continue moving forward. My life did not go how I thought it would, yet here I am in the middle of Spain walking through the countryside along the Camino de Santiago. I could not have imagined that I would be here, but here I am. I believe that I am in the exact place that I need to be right now. The people that I am interacting with are here to teach me lessons in life, and I in theirs. We take from each other and give in return. Our paths converge in the delicate web of life and we share our experiences so others will know about the shared experiences and difficulties that have led us to the moment that we are in right now.
I stopped for lunch at a bar in a little village, and as I was eating, a small cat kept trying so hard to sit on my lap while I was eating. I think that he thought that if I let him sit, then I would feed him. I was so hungry that I didn't want to share, no matter how cute he was. He hugged my leg, laid his head on my lap, and even jumped on my bag that was sitting behind me and was about to jump on my shoulder if I would have let him. It took a lot of restraint not to give into the cuteness, but I knew that I had to!
I ended up walking 16.25 miles and ended the day in Vega de Valcarce. Right before arriving in town I ran into one of my Camino family members and we went to the Albergue together, where we ran into another. One became two, then two became three, then eventually three became four. It was so great to have so much love, smiles, and happiness going around.
I spent my birthday dinner with some of my Camino family, and it was a wonderful meal. It was not at a fancy restaurant, but cooked in the Albergue kitchen by one of my Camino family members. The Hospitaleros (the host at the Albergue) saw that it was my birthday when I was checking in, and brought over a bottle of wine that was made by them while we ate dinner. It was such a simple, yet meaningful gesture. We sat and ate, and drank wine, and talked for probably close to five hours with the beautiful mountain range as the backdrop. It was a wonderful time of sharing our experiences that have brought us to where we are right now. I am so happy to have the shared experience and the opportunity for the stories shared. The photo on this post is from the view that I had at dinner, since it was such a special one for me. I keep seeing the saying, "Collect memories, not things" and it really rang true for me this year. I grew closer to my Camino family, and I know that I will cherish this birthday for the rest of my life.