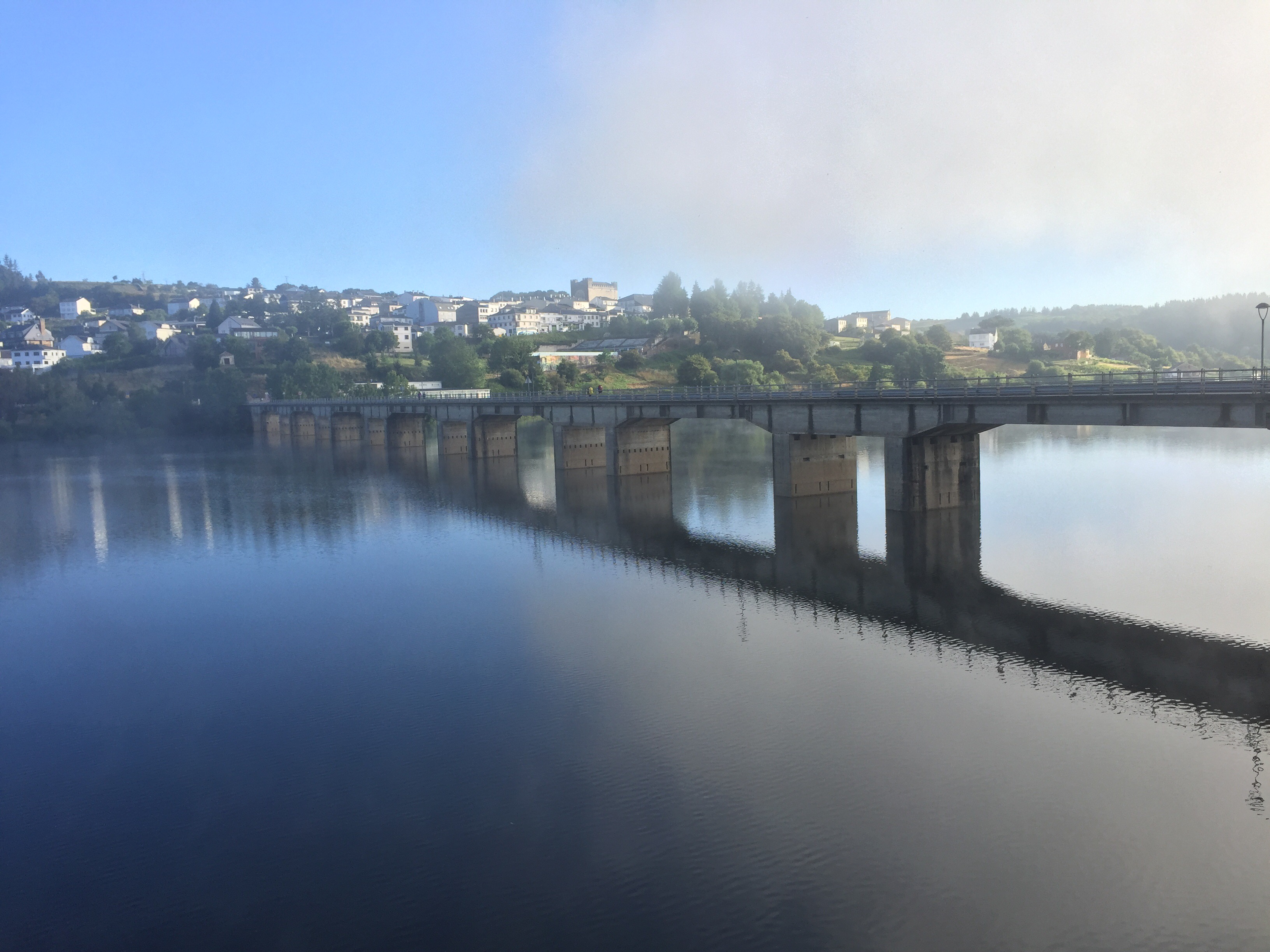 Today started out a little late. We had breakfast at the Albergue with the Hospitalero and then hit the trail around 8:00. The morning was quite beautiful with a bit of fog clinging to the fields. As we made our way into Portomarín, there was a low fog dancing along the water in small patches and swirls. I stopped on the bridge to take some photos before heading on into the town.
We had a short pitstop in town to grab some coffee and then continued on. After a long day of walking and many outstrips, we arrived at the Albergue around 4:30. There was a lot of rough terrain at the beginning, so at the end of the 14 mile day, I was tired and my feet hurt.
As I said in yesterday's blog, the trail is becoming more crowded. It's not the pilgrims that I am used to from the first part of the Camino. Instead of pilgrims carrying their large packs with everything that they need for a month of walking, there are now big groups of pilgrims carrying light day packs who are coming with tour companies. I had to stop myself because I found myself feeling a little spiteful to them. In their big groups they are constantly talking and not listening to the still silence around them. I came across a man talking on his cell phone about steak. I came across him again a second time later in the afternoon and he pulled out his phone and was talking about sandwiches. I was happy that I am absorbing enough of the language to tell that was what he was doing, but I felt as if the Camino had no meaning to him. I had to stop myself from judging him, but it made me so mad. It felt to me as if someone were to accept a call during the consecration at mass. It bothered me that much. One of my friends approached him the second time after he got off his phone and encouraged him to just enjoy nature and the beauty around him. He seemed apologetic and said that he was from a big family and had to check in with them to make sure that things were taken care of but that he would try to take her advice to get the Camino experience.
It reminded me a bit of when I was studying abroad and I took courses on Aboriginal history and culture. I had classes with the elders and discussed their culture with much interest. When I planned a trip to the outback which included visiting Uluru, or Ayers Rock as it is commonly known, I discussed the trip with the elders. I had learned about their spirituality in my classes and understood what a significant spiritual place it was for them. The elders told me that though they do not like for people to climb Uluru, they said that they felt that I understood the significance that it held to them and gave me permission to walk the path. I did walk the path and to me it was a spiritual journey because I understood the significance of the place.
The last 20 miles of the Camino have felt kind of like the spiritual significance is getting lost. I understand that it is my personal perspective, since I went into this Camino as a spiritual journey of self discovery and reflection. I also know that not everyone has the time or means to start where I did. It is just hard for me to adjust my focus where I know it needs to be when I am being distracted by these feelings of negative energy around me and not being able to hear the silence of nature that I've gotten used to for the last three weeks.
I have been told that the Camino Francés has three stages: Physical, Emotional, and Spiritual. I know that I experienced all three of these. The physical was starting the Camino and crossing the Pyrenees and getting my body used to walking so many miles per day. The emotional was overcoming the difficulties of injury and potential failure. The Spiritual, the stage I am in is overcoming the distractions around me and keeping myself focused on my connection to God and the beauty of nature around me, even when I am surrounded by negative energy and distractions. I know that I am sometimes too quick to judge someone without knowing who they are or their reasons for being here. That Is something that I need to continue to work on. Just because I began in St.-Jean-Pied-de-Port does not make me more of a pilgrim than they are. Again, my pride comes in and distracts me from my experience and growth. I know that there is still much more for me to learn in these final days to Santiago.