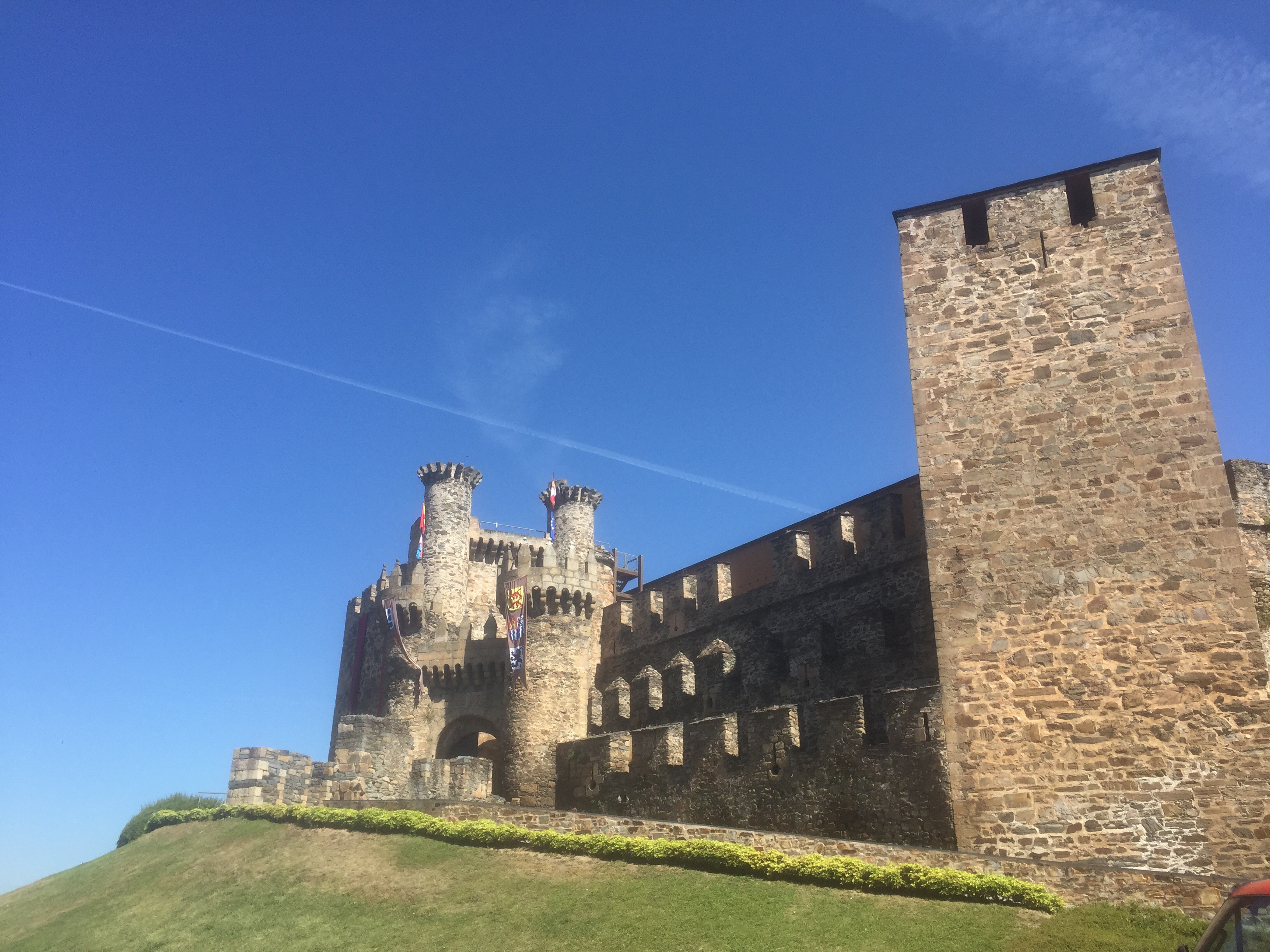 Today was another long day, and most of it was walking alone. 18 miles through the heat. It was around 80 in the shade, so while walking with no cover it felt much hotter. I set off before the heat at around 8:00. I decided that since my feet actually seemed to hurt more because the bandage would shift, that I would walk today without the bandages. I made the last 3 miles into Molinaseca before continuing on the trail. I grabbed a breakfast at the first café I found since they advertised a bacon and eggs breakfast that I just had to have, and then I continued on.
In Ponferada there is a Templar castle that I admired from the outside. I thought about getting a ticket to view the inside, but I was concerned about time and the heat was starting to rise. So I continued on. I kept running into two of the Italians that I had dinner with previously and left my friend with. Throughout the day we would say hello as we passed.
Around 2:30 I made it to Camponaraya and decided to take a little break so that I could make it a little further. My feet were hurting a bit, so I decided to make the switch into my sandals to see if that would help me make it a little further. I had another 4 miles before the next town, and to keep the pace I really wanted to make it there today. Fortunately, it worked. With the sandals on, since it was mostly flat, my feet were able to breathe and I made it to Cacabelos. At the Albergue, I met up with my friend from Southern California, and the Italians arrived shortly after.
We all gathered and had another international dinner that has become a favorite of mine. We had Italy, USA, Germany, and The Netherlands represented at tonight's dinner. We had some sing a longs in Italian and in English, and it was an incredible experience. I also discovered that one of the Italians shares a birthday with me, so we will be celebrating together tomorrow!
I know that I have said it before, but the international and Camino family here makes me smile every day. The connections that I make with other people from other parts of the world are life changing and incredible! These experiences are hard to describe in words as they are so emotionally charged. It is part of the Camino experience, and it is incredible. It is just an awesome experience to be sitting at an unfamiliar café in a village in Spain and hear "Hey K.C.! How is it going today!" So supportive. So welcoming. My Camino Family.