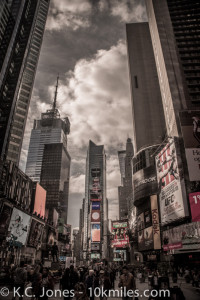 The air burns my nose as I walk down the crowded streets. The smell of the paper and who knows what else, burning in the street vendors cart drives my senses crazy. That's what happens when you leave the open countryside and take a train into New York City. I leave the vast open spaces in exchange for the concrete jungle. I traded the solitary space of my car for the crowded trains and streets of New York City on a holiday weekend. It's not the people that overwhelms me, its the smells in the air.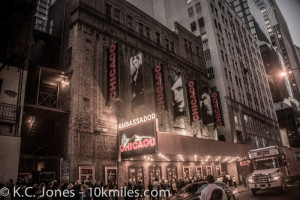 I decide to take a different approach while in NYC. I go out and I do hit all the touristy spots. I mean, it is New York City! Fortunately, since I have been here before I am already a little familiar with the layout and the subway system so it doesn't stress me out. My hotel room was a block from Times Square in the Theatre District. I was literally looking down on the roof of the Majestic from my hotel room window on the 18th floor. Unfortunately, I was not able to go to a show while I was there, but I hope to next time!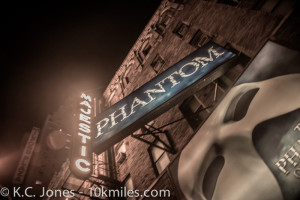 I walk down the street to Times Square and just sit and watch the constant flow of people. Staring up at the vast electronic displays telling us what we should buy, what we should see is such a change from the pace I have been living at the last few months. Superheroes walk down the street returning from ComiCon. Street performers work to gather crowds to help pay some bills. Money changing hands from the people watching to the street performer, performer to the landlord, landlord to bank, bank back into peoples hands, and so on.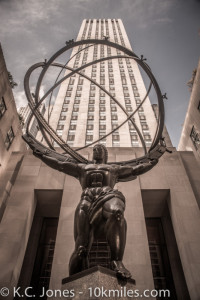 The next morning I walk down the street following the Columbus Day Parade route along Fifth Avenue. I didn't realize that there would be a parade, but hey, I'm here so I'm going to check it out! I watch for a while and end up at St. Patricks Cathedral for midday mass and feel blessed and recharged. All through mass the sounds of the marching bands and parade floats fills the cathedral. It's a little distracting, but it leaves me with a very unique experience.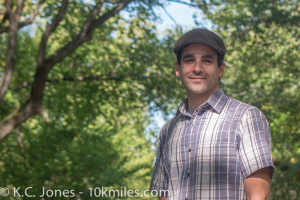 I keep going down the street since Central Park was my original destination before I knew that there would be a parade. While walking around the park I came across a young woman standing alone taking a photo of the statue of Columbus and offered to take her photo in front of it. We got to talking for quite a bit about travel, my trip, and some of the important life messages that I have received on this trip. I really felt that this conversation was another of those life altering conversations that I have been thinking about along the way. One of the things that she said while we were standing there really stood out! I thought to myself, "That is something that I could do when I get back home! It's something I attempted when I was younger, but I might not have been ready at the time. Maybe that is the next step in my life." Even if this doesn't go in the direction that I am thinking now, I know that it will lead me to where I should be. I am a firm believer that everything happens for a reason. That reason is much greater than us. I'm not saying that everything is mapped out to begin with, but that I believe that there are key events that happen that push us in the direction that we need to go. Sometimes it comes through people we know and love, and other times it's through a stranger that we just met once.